Inle Lake is a freshwater lake located in the Nyaungshwe Township of Taunggyi District of Shan State, part of Shan Hills in Myanmar (Burma). It is the second largest lake in Myanmar with an estimated surface area of 44.9 square miles (116 km2), and one of the highest at an elevation of 2,900 feet (880 m). During the dry season, the average water depth is 7 feet (2.1 m), with the deepest point being 12 feet (3.7 m), but during the rainy season this can increase by 5 feet (1.5 m).
Life on Inle Lake happens around the water
The mineral and nutrient rich runoff from the highlands result in a fertile ecosystem that the local people use primarily for agriculture and fishing. A number of indigenous groups coexist in the area and collectively are known as the Intha people who fish the waters and whose one legged rowing technique has become synonymous with what we come to know about Inle lake. Most of the ethnic people are Buddhists and they live on simple wooden houses many of which are on stilts.
​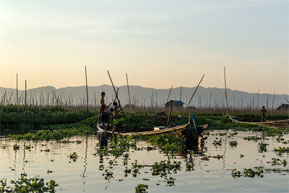 Apart from fishing, the locals produce wood carvings, crafts, silk and a special fabric from the lotus flower that they use as additional sources of income.
Places to see on Inle Lake
Traveling around the lake is done by long motorized boats which make the journey between all the towns and landmarks in the shallow waters steered by savvy long-tail boatmen.
The 5 day market
​
Inle Lake inhabitants get their groceries sorted in a daily market that tours the lake changing location on a 5-day cycle. Since there is at least one or two locations for the market every day, you should wait for the best ones which are the Nyaung Shwe and the Ywama: full of interesting food and drinks to observe, locals buying and selling and no tourist trinket available.​
You should avoid Thauntaung, Taung-To and Shwe Nyaung as they are smaller and very hard to locate. Your hotel can organize a boat to take you to all.
In Dein
In Dein is made of two parts. A collection of ruined stupas that are much reminiscent of Bagan and a group of tall spired stupas in golden and white colors up a long covered colonnade that is lined with souvenir shops on both sides. The 418 pillar colonnade is covered with a tarpaulin roof and ends up the hill, from where there is a lovely view and a temple.
​
The stupas were added from the 12th century until the 18th and you should take your time to take it all in. As you walk up the colonnade, make plenty of off-course detours from the main corridor right and left as this is where the best views and stupas are, and where you are likely to find less tourists. In Dein is surely on every visitor's main to-do list on the lake.​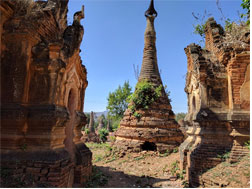 Restoration efforts are ongoing although many say that the work is questionable and the stupas are not being restored faithful to their original structures.
Artisan workshops
​
The lake people are known for their artisanal work as silversmiths, fabric weavers from silk to lotus fabric (unique to the lake), and even cheroot cigar making. You can go on a tour of a few of them by simply asking the hotel or your boatman to stop along the lake at the various workshops. Get off the boat and observe how they carry out their guild then buy something if it interests you.
Khaung Daing hot springs
A short ride from town these hot springs are less visited than other parts of the lake and a pleasant way to while away an afternoon. You can ride a bike to the small town of Khaung Daing or take a tuk tuk.
Wineries
Believe it or not, Myanmar has wineries too. Red Mountain Estate opened in 2002 whereas Aythaya Vineyard is older. The wine is widely available in Inle Lake and it goes well with the spicy local food as it is relatively sweeter and lower in alcohol that your average wine.
German-founded, it was the first to establish itself in the country in 1999 and as the owner says, it has been a bit better every day. Red Mountain winery is high up in the hills and is a great place to have a glass as well as snacks. You can ask for a tour of the property.
Listed in Network of Biosphere Reserves by the UNESCO
Today, and especially during the peak months of November to February, the lake can be full of backpackers in search of a quiet slice of lake life. And with reason. After Yangon's boom came Bagan's temples and lastly Inle Lake's romance. Both Bagan and Inle Lake are in a tentative UNESCO site listing since 1996.
The UNESCO World Network of Biosphere Reserves (WNBR) covers internationally designated protected areas, each known as biosphere reserves, that are meant to demonstrate a balanced relationship between people and nature (e.g. encourage sustainable development).
The WNBR of the MAB Program consists of a dynamic and interactive network of sites. As of 2016 total membership had reached 669 biosphere reserves, including 16 transboundary sites, in 120 countries occurring in all regions of the world. Myanmar had its first biosphere reserve inscribed in 2015 which is the Inle Lake. The lake's size has reduced by 30% from 1935 to 2000 as a result mostly of the agricultural practice of floating gardens which solidify into soil with time. The lake contains a number of endemic species not found anywhere else.
​
Source: https://en.wikipedia.org/wiki/Inle_Lake
http://jimmyeatsworld.com/2014/06/01/life-inle-lake-2
https://en.wikipedia.org/wiki/World_Network_of_Biosphere_Reserves
https://www.onceinalifetimejourney.com/once-in-a-lifetime-journeys/ultimate-guide-inle-lake
11-12-inlefloatingresort_com
Experiencing Life on the Water, Inle Lake – The Most Picturesque Region of Myanmar​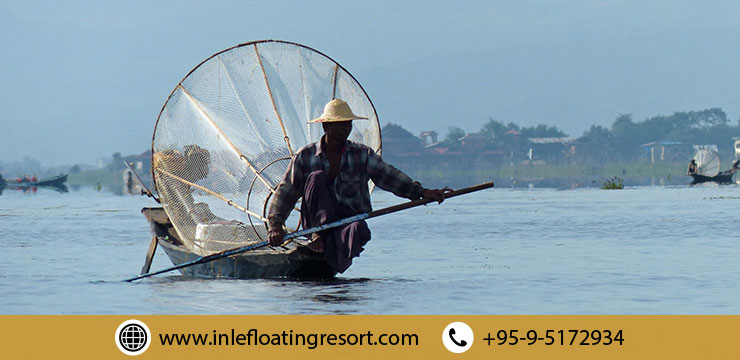 Myanmar only started to open to tourism in 2011 and Inle Lake came later to the game. Truly appearing on tourists' radars from 2014 but has since seen an explosion in the number of visitors. In the past, Inle Lake, and Myanmar for that matter, was the subject of dreams and trips by hard-core off-the-beaten path travelers that managed to get in and explore the country during the regime's close-off.​