If you have a clear idea of what you do, and don't, want to see then you might only need the driver, but be sure they understand your plans clearly, otherwise they'll take you to the same places they take all their customers. You do, however, run the risk of missing out on some little gems, and obviously you won't get the history behind what you're seeing.
If you decide to hire a guide, then they'll come and greet you at your hotel and bring you to your boat. They'll take up 1 seat, so you've only got 4 left for you and your group in the boat. Now the guide will have their own ideas as to where to go, but you'll be able to have a clear conversation on what types of things you'd like to see, and they can cater your entire day around that.
While on the water, the boats engines are too loud for much conversation or explanations, but at each location you stop at, your guide will be able to give some great insight and information.
Where to go and what to see
​
A typical Inle Lake boat tour will see you visiting some of the local silver and silk artisan workshops, along with boat building and cigar workshops.​
Then, there's the famous Phaung Daw Oo Pagoda in the middle of the lake, the floating gardens and fishing villages, and finally the 5-day market.​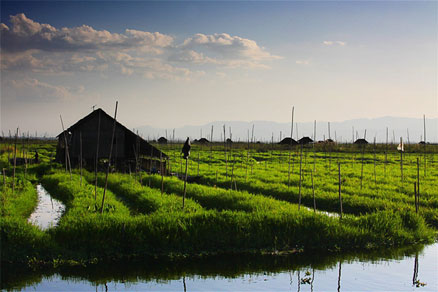 Trips can be tailored, but make sure to spend time observing the Intha fishermen (most photogenic at dawn) and their unique technique of rowing the boat with one leg while using both hands to fish.​
Anther destination includes Indein where crumbing, hilltop pagodas look down on the water.​
Boat Trip over Inle Lake — What to Expect​
In the unique watery world of Inle Lake, Intha fisherman row canoes with one leg, gardens float, and wooden homes perch above the water on rickety stilts. Every morning a flotilla of slender wooden canoes fitted with long-tailed outboard motors surges forth, transporting visitors to various natural, cultural, religious and historic sites. Getting out onto the water, taking a boat tour, is naturally the most popular way to experience the Inle Lake.
But with so many agencies offering tours, what should you expect from your day tour, and what should you definitely not miss out on? Keep reading.
To hire a guide or not?
The simple answer would be it depends on what you want to get out of the day. A boat comes with 5 free seats and a driver. Usually this driver will speak a little bit of English, but don't expect much. They'll be able to navigate you around the lake and wait for you while you explore certain points of interest.
​