Shwe Inn Tha Floating Resort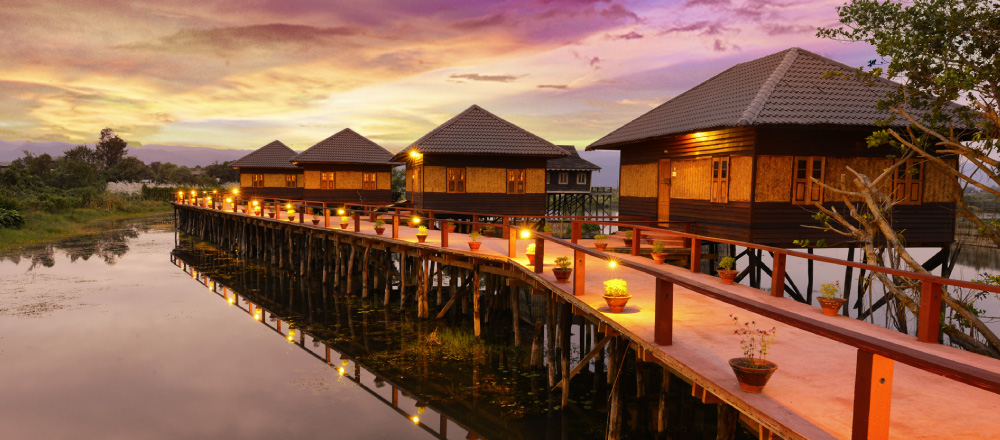 Shwe Inn Tha Floating Resort
Situated above the peaceful Inle Lake, Shwe Inn Tha Floating Resort offers rustic-style air-conditioned rooms with a private balcony and a view of Inle Lake. Free Wi-Fi is available. Very nice and friendly resort with a perfect location for doing sightseeing in area. Service is very good and staffs are very friendly. You arrive with boat and walk up a wide staircase in wood.

The resort is equipped with a pool, a spa centre and meeting facilities. Sightseeing trips can be organized at the tour desk while staff at the 24-hour front desk can assist guests with laundry services.
Shwe Inn Tha Floating Resort
Rooms at Shwe Inn Tha Floating Resort are classically furnished with wooden interior. Each room comes with a mini-bar, a tea/coffee maker and a safety
deposit box. A bathtub, a hairdryer and free toiletries are included in an en suite bathroom.
"Stunning location, Impeccable service"​
The hotel is literally marooned at the edge of the lake. The only way in and out is by boat. This gives it a certain air of Fantasy Island which adds to the magic of just being on Lake Inle.
We were greeted by smiling helpful staff with a welcome drink and taken to our room. All the rooms are detached huts on stilts which fan out from a central restaurant and pool area. The rooms are large and comfortable. My only warning would be that it can get VERY cold at night so take lots of warm clothes as you may need extra layers to sleep in. Our room had a stunning view of the lake and mountains and we woke each morning to a beautiful sunrise and the sounds of locals singing a call to prayer. The service at the hotel is impeccable. All the staff were amazingly helpful and made our stay an absolute joy.
Transport to the various attractions around Inle lake is easy and cheap to organize via the hotel. The hotel is very close to the village of Thar Lay which is well worth a visit - you must dine at Mr. Toe's restaurant at least once during your stay to enjoy amazing local lake fish.
On our departure we were each given a hand made personalized bag to take with us which rounded off a perfect stay. Thank you to all the staff at Shwe Inn Tha.
​
Danimalx from London, United Kingdom
"We enjoyed our visit and stayed 4 nights ..."​
Erfurt from Jupiter, Florida
This was our second visit to this lovely floating resort build on stilts, we stayed here in 2013 as well. We love this resort, even so it is not ultra modern, it's location, location, location. As I understand from our Tour Guide, many tourists stay in the new modern Hotels now built on land, I believe in doing so you lose the true experience of "Inle Lake".
Here at Shwe Inn Tha you arrive by longtail boat, which is already a unique experience, just imagine cruising on this beautiful lake, enjoying the exceptional scenery, watch the local fishermen doing their job, seeing all the other long tail boat traffic on the lake, for us this alone is terrific.
Once we arrived we were greeted with a warm SMILE by an old friend Ms. Su Mon, Front Office Manager at the resort. This alone is a great beginning. We were assigned to over the Water-Chalet No.304 (just like in Tahiti) a very large room facing the Lake, with sunset views. We had a Queen Size Bed, with clean bed linen, very comfortable, slept well, there is a Mini-Bar, a Coffee maker, there is sitting area, a huge panorama window, in-room safe, no TV as of yet only in the Lobby area, a balcony to enjoy the lake views with a breeze, you have free Wi-Fi, the W/C is in a separate room from the bathroom, clean Bath Towels, a shower/tub combo, a separate vanity with amenities.
The resort alerts you, that there could be noise heard from the outboard motors of the boots or Inle dwellers (INTHAS) recite sermons early morning @ 4:00 AM…. not to worry you get ear plugs too. This never bothered us, this is all part of the cultural experience. Take it all in I say.
We have a very special thank you for "Su Mon" …my wife was not feeling great one day and Su Mon visited her often in our room on that day, even sat by her bedside for long periods of time… we salute her kindness.
Therefore if you are looking for an authentic Inle Lake experience, I highly recommend staying at Shwe Inn Tha Floating Resort, we loved it the second time around and hopefully we can return again.
Lovely to hear the water lapping underneath the comfortable and roomy cabin with great views of the passing cavalcade of boats (fortunately largely unheard during the night). Cabins were distinctively traditional but had all amenities. Helpful staff although the Wi-Fi was distinctly dodgy.​
Book Directly here SECURED with Singapore-based
2c2p Payment Gateway (Level 1 Service Provider)
with https and SSL WORLD-CLASS security. Our Booking Engine and payment procedure is 100%
PCI DSS-compliant. 2C2P is an international payment processor that works with all credit card
organizations worldwide, as well as with
numerous acquiring banks across Asia.
INSTANT BOOKING
CONFIRMATION MESSAGE
What a wonderful and unique hotel in a magnificent and unique place. The Shwe Inn Tha was just great and the owner and staff made it even better. Clean rooms, great food and close to everything on Inlay Lake. The lake and this hotel are gems. Loved it so much I went back twice.​
It's not the most luxurious place and you're not going for the food which is average, but the views and the tranquility of the place makes it one of the best and most memorable experiences. I stayed for two nights and never left the lake oasis -- there was no reason to do it because all I wanted to do was the relax, sit at the pool, read, and watch the sunset which is the most magnificent. And yes the boats are loud, but that's really all you ever hear out there. It's so serene. The boat ride there I saw the sun rising, fisherman on their boats and their one-legged paddling, birds and the majestic hills. It's truly paradise. And the rooms are huge, clean and the bed very comfortable. The staff very friendly and nice.