Experiencing Hot Air Balloon Ride Over Inle Lake
Taking to the skies in a hot-air balloon as the sun slowly breaks above the horizon is a pretty exciting, 'tick-it-off-the-bucket-list' experience many of us would love to have… But riding in a balloon over Inle Lake – that's the kind of thing that makes your trip to Myanmar truly unforgettable!
在茵莱湖独特的水世界中,Intha渔夫单腿划独木舟、花园漂浮、栖息在摇摇晃晃的高跷上方的木制房屋。 每天早上,一队装有长尾舷外发动机的细长木制独木舟冲出来,将游客运送到各种自然、文化、宗教和历史遗迹。 乘船游览水上风景是体验茵莱湖最受欢迎的方式。
Voyage en bateau sur le lac Inle - À quoi s'attendre
Dans le monde aquatique unique du lac Inle, les canots de pêcheur Intha à une patte, les jardins flottent et les maisons en bois se perchent au-dessus de l'eau sur des échasses rachitiques. Chaque matin, une flottille de canoës sveltes en bois équipés de moteurs hors-bord à longue queue surgit, transportant les visiteurs vers divers sites naturels, culturels, religieux et historiques. Se promener sur l'eau, faire une excursion en bateau, est naturellement la façon la plus populaire de découvrir le lac Inle.
Boat Trip over Inle Lake — What to Expect
In the unique watery world of Inle Lake, Intha fisherman row canoes with one leg, gardens float, and wooden homes perch above the water on rickety stilts. Every morning a flotilla of slender wooden canoes fitted with long-tailed outboard motors surges forth, transporting visitors to various natural, cultural, religious and historic sites. Getting out onto the water, taking a boat tour, is naturally the most popular way to experience the Inle Lake.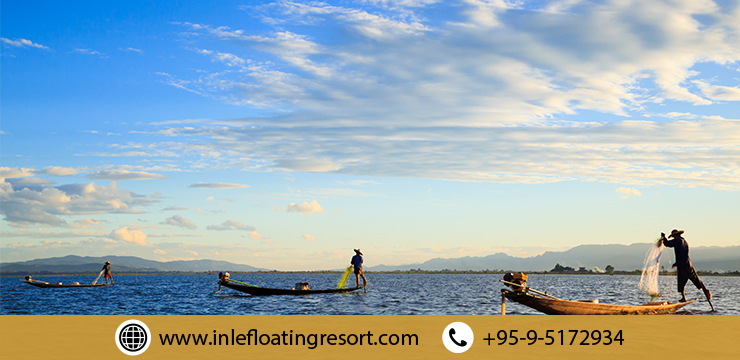 4 Interesting Things to Do around Inle Lake, Myanmar
One of Myanmar's most iconic visitor attractions, Inle Lake is famous for its "one-legged" Intha fishermen and floating gardens. It has also been designated as a UNESCO Biosphere Reserve. Water, mountains and an endless sky: Inle Lake's natural gifts have been a quiet tourist draw for decades; these have made Inle Lake one of present-day Myanmar's hottest destinations. But "hot" is relative; even popular Inle Lake still feels off-the-beaten-path for first-time tourists visiting Myanmar.