Shwe Inn Tha Floating Resort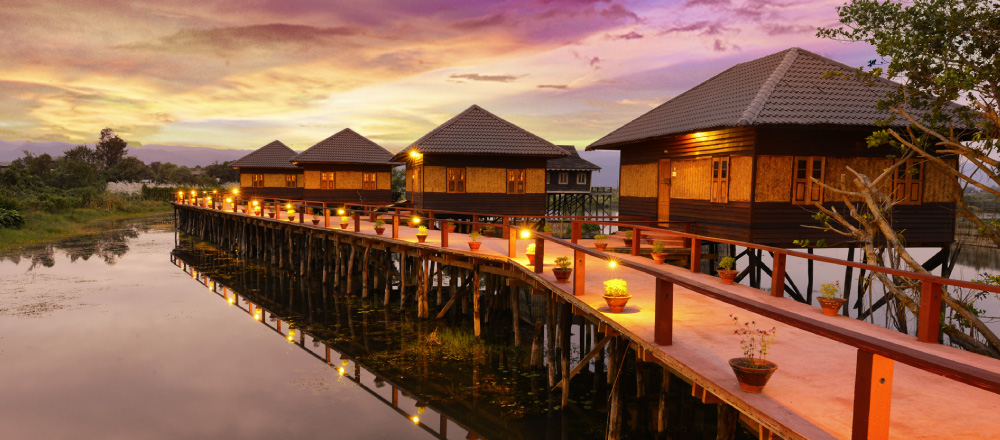 Shwe Inn Tha Floating Resort
Situated above the peaceful Inle Lake, Shwe Inn Tha Floating Resort offers rustic-style air-conditioned rooms with a private balcony and a view of Inle Lake. Free Wi-Fi is available. Very nice and friendly resort with a perfect location for doing sightseeing in area. Service is very good and staffs are very friendly. You arrive with boat and walk up a wide staircase in wood.

The resort is equipped with a pool, a spa centre and meeting facilities. Sightseeing trips can be organized at the tour desk while staff at the 24-hour front desk can assist guests with laundry services.
Shwe Inn Tha Floating Resort
Rooms at Shwe Inn Tha Floating Resort are classically furnished with wooden interior. Each room comes with a mini-bar, a tea/coffee maker and a safety
deposit box. A bathtub, a hairdryer and free toiletries are included in an en suite bathroom.
Shwe Inn Tha Floating Hotel Inle Valid from - 01 May 2016 ~ 30 September 2016
Provided by
Shwe Inn Tha Floating Resort
Phaung Daw Oo Pagoda Festival
Hot- Air Balloon competition festival
( November 8-14 / 2016 )
Chose this hotel for a bit of R & R on a hectic trip around Myanmar. The room was great - enjoyed sitting out watching sunset & loved the outside shower. The hotel is very slightly dated, but the room was well appointed with all the amenities you could wish for, and turndown service welcome. Great to have a pool to cool down in. Restaurant ok, but really quiet so lacked atmosphere. Had I been staying longer than 2 nights would have ventured out but this would have had to have been by boat, so felt just a little trapped. Breakfast good, but as hotel appeared to be quiet full buffet not on display. Very attentive and accommodating staff. Only criticism would be that my room was being serviced while I had breakfast on my last morning, so didn't have a post breakfast lie down! Couple of power cuts but that's expected in Myanmar & didn't really inconvenience. You discover when you've checked in that the monks at the nearby monastery start praying/chanting at 4am! Excellent Value for what I paid - would certainly recommend - thank you!!
CardiffGulliver59 From Cardiff (May 30, 2016)
DavidE282622 From Denver, Colorado (July 8, 2016)
I went in the low season (June). Briefly, the hotel itself was great - clean, comfy, very nice rooms with great views. The pool is a nice addition and they also have a good restaurant and spa. Despite all these great features, the staff was perhaps the most impressive. I was sick upon arriving, and the lengths and accommodations that they made were unlike anything I've ever experienced. The genuine concern and care, and then the actions took were above and beyond. Highly recommend it!
"Lovely hotel with great views and breakfast"
Really enjoyed our stay here after the three day trek from Kalaw. Warm welcome as we arrived and really friendly service throughout. The food was great which is a real bonus around here as getting to other places for dinner means a few extra dollars on hiring a boat. Hotel were able to book us several day trips but be warned they stop you at the local silversmith, umbrella workshop and other tourist stops they don't advertise. Rooms were very comfortable and clean with great balcony to watch the sunset or sunrise over the hills surrounding the hotel. At the bar there is happy hour where cocktails are buy 1 get 1 free. We ordered a variety but the Rum Sour was by far the best and actually a really good drink. The others being not so great.
Co3-DS
Level 4 Contributor (Aug 2016)
Book Directly here SECURED with Singapore-based
2c2p Payment Gateway (Level 1 Service Provider)
with https and SSL WORLD-CLASS security. Our Booking Engine and payment procedure is 100%
PCI DSS-compliant. 2C2P is an international payment processor that works with all credit card
organizations worldwide, as well as with
numerous acquiring banks across Asia.
INSTANT BOOKING
CONFIRMATION MESSAGE